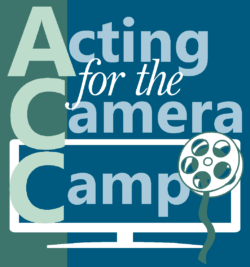 Acting for the Camera Camp is a unique and fun opportunity to study the techniques used by film, television, and commercial actors. Camera work differs from stage acting in many ways. Students discover how to convey emotion, mood, character, and tone for optimum effect onscreen.
When an actor works onstage, he/she is playing "to the balcony". The face, body, and voice are used to project emotion and convey character on a scale that fills a large area. Techniques such as "giving stage", "taking stage", and "cheating out" are used to direct the audience's focus. However, many successful stage techniques would simply not work when applied to the screen, where audience focus is largely determined by camera angles, shots, lenses, and editing. Screen actors need to develop and awareness of the scale and intensity of their physical, facial, and vocal expression and body movement.
Students in this camp don't necessarily have to be aiming for professional screen work. Learning on-camera techniques helps students of all levels improve body awareness, presentation skills, and clearer communication skills.
Learn how to make the camera work for you.
Our instructors are working professional camera actors with years of experience in front of the lens.
Learn how to make the camera work for you.
Each student will receive his/her own video "reel" at the end of the camp!
GRADES:entering 2nd-12th
TIME: Session 1 (entering grades 2nd-5th): 9:00am-12:00pm.
Session 2: (entering grades 6th-12th) 12:30pm-3:30pm.
DATES:  August 19-August 23
Tuition: $300
LOCATION: Elefante Music & School for the Performing Arts, 1790 Springfield Avenue, New Providence, NJ