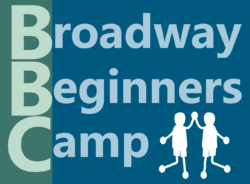 Broadway Beginners Camp is an exciting camp exclusively for younger students! This 1-week, 1/2 day camp is just perfect for the budding performer in every child! This camp can help build self-confidence and aims to make young children aware of the positive effect that strong communication skills can have on themselves, their peers, and adults.
3 & 4 year-olds meet from 9:00-12:00, and 5 & 6 year-olds meet from 12:30-3:30. Many of our most successful older performing arts students began their Elefante training as Broadway Beginners.
Students are introduced to singing, dancing, acting, and all things musical theater, sprinkled with a heavy dose of fun! There will be a "sharing" of what the students learned at the end of the classes!
AGES: 3 & 4 (am session), 5 & 6 (pm session)
TIME: Session 1: 9:00am-12:00pm (ages 3 & 4). Session 2: 12:30-3:30 (ages 5 & 6)
DATES: 2020 dates TBA
TUITION: 2020 tuition TBA
LOCATION: Elefante Music & School for the Performing Arts, 1790 Springfield Avenue, New Providence, NJ