A great opportunity for first-year band students to get a head start on their new instrument!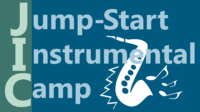 Jump-Start Instrumental Camp prepares students for their first year of studying an instrument at school. Kids enter their school band or orchestra feeling confident and ready to make music! Many band and orchestra teachers in the local schools have reported that our "Jump-Starters" enter the school instrumental program with a marked advantage. There will be a performance on the afternoon of the last class, right here at Elefante!
GRADES: first-year school instrument students
TIME: 9:30am to 12:30pm
DATES: August 19 to August 23, 2019
TUITION: $275
LOCATION: Elefante Music & School for the Performing Arts, 1790 Springfield Avenue, New Providence, NJ
*Registration is Closed*
Questions? Call Carolyn at (908) 464-5928.