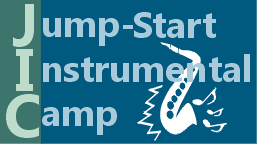 First-year band and orchestra students: get a head start on your new instrument! Jump-Start Instrumental classes prepare you for your first year of studying an instrument at school. You will enter school band or orchestra feeling confident and ready to make music! Many band and orchestra teachers in the local schools have reported that our "Jump-Starters" enter the school instrumental program with a marked advantage.
NOTE ABOUT INSTRUMENT RENTALS: Please make sure you have ordered your instrument rental at least 7 days before the start of class to ensure that it is available on time.

PPE REQUIREMENTS: Masks are required for all instruments for in-person classes. Masks may be removed when actively playing a wind instrument. Bell covers are required for clarinet, saxophone, trumpet, trombone, French horn, and baritone horn. Bell covers can be ordered with your instrument rental, through our online store, or through our retail locations.
Virtual: Clarinet and Saxophone
REGISTRATION IS CLOSED
DATES: August 16 – 20
TIME: 10am – 11am
PRICE: $100
Violin & Viola
Session 1
REGISTRATION IS CLOSED
DATES: August 16 – 20
TIME: 10am – 12pm
PRICE: $250
LOCATION: 1790 Springfield Ave, New Providence, NJ
Session 2
REGISTRATION IS CLOSED
DATES: August 23 – 27
TIME: 10am – 12pm
PRICE: $250
LOCATION: 1790 Springfield Ave, New Providence, NJ
ALL STRINGS
Previously listed as "Viola, Cello, and Upright Bass"
DATES: August 23 – 27
TIME: 12:30pm – 2:30pm
PRICE: $250
LOCATION: 1790 Springfield Ave, New Providence, NJ
REGISTRATION IS CLOSED