We're thrilled that you are as excited as we are about travelling down the yellow brick road!
If you are planning on auditioning and/or attending the free audition workshop, please send an email to karen@elefantemusic.com with the following 5 items:
1. Parent's Name
2. Student's Name
3. Student's Age (very important)
4. Phone Number
5. Whether the student will be attending the workshop plus the audition, or just the audition
Please read the following "Audition Packet" carefully. It includes audition info, a rehearsal calendar, and more:
Here are some materials that will be used in both in the Audition Workshop (Wed. January 3rd from 5:30-7:30 here at Elefante) and in the Audition itself (Wed. January 10th from 5:30-8:30 — staggered times — here at Elefante).
Main Audition Song: "Ding Dong the Witch is Dead"
All students will be asked to sing the following excerpt from "Ding Dong, the Witch is Dead". Students will sing along with this backing track:
Ding Dong Backing Track
Here is the same excerpt as above but with vocals. This vocal version can be used for home rehearsal:
Ding Dong with Vocals
Potential "Callback" Songs
Some students may be asked to sing additional materials towards the end of the audition. Here are two of the songs they might be asked to sing, but we may also ask to hear additional songs that aren't included below:
Over the Rainbow Backing Track
Over the Rainbow with Vocals
If I Only Had the Nerve Backing Track
If I Only Had the Nerve with Vocals
Callback Preparation List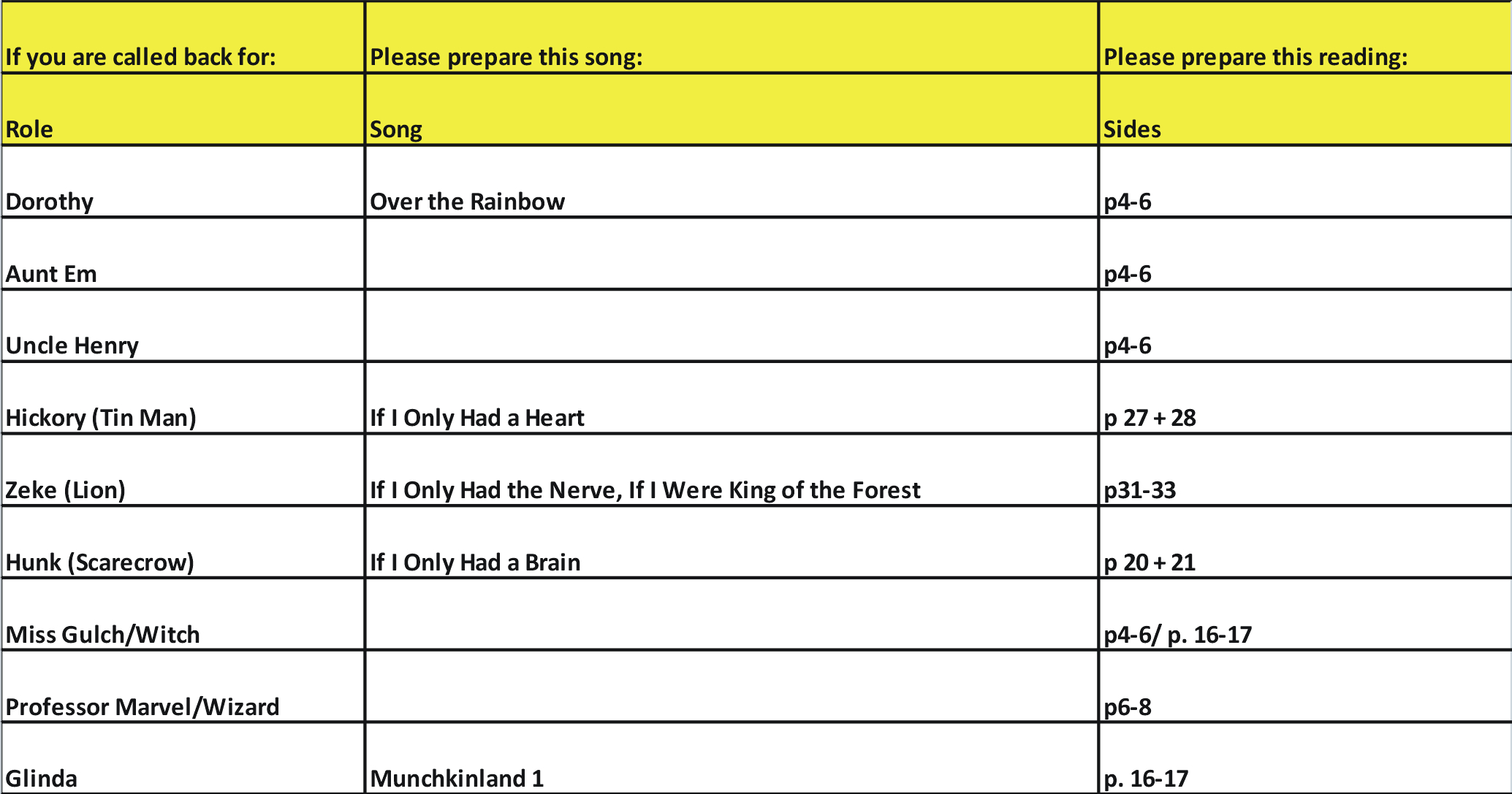 Callback Sides
Callback Music (also see "Potential Callback Music", above)
Munchkinland 1 Backing Track
Munchkinland 1 With Vocals
If I Only Had a Brain Backing Track
If I Only Had a Brain with Vocals
If I Only Had a Heart Backing Track
If I Only Had a Heart with Vocals
If I Were King of the Forest Backing Track
If I Were King of the Forest with Vocals